About the Clenergy SPH inverter range
Clenergy was founded in Australia and now employs 400 people on 4 continents. Their solar PV specialists develop, manufacture and sell a range of renewable energy products and services to the residential and commercial markets.
Clenergy SPH inverters' output ranges from 1.75 kW to 6.5 kW. However, most of the models imported in Australia are 1,500 W, 2,000 W and 3,000 W inverters.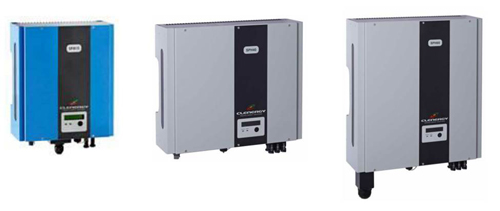 Service My Solar looks after all Clenergy SPH inverters:
SPH15 – 1,500 W
SPH20 – 2,000 W
SPH30 – 3,000 W
SPH40 – 4,000 W
SPH60 – 6,000 W
Troubleshooting your Clenergy SPH inverter
In the early morning – when you inverter starts – and in the late afternoon – when it shuts down, the red light turns on and there is a clicking noise. This is just how your inverter normally operates and it shouldn't worry you.
Nevertheless, if this red light stays on throughout the day while the inverter is running, this may indicate a major internal issue. Before ringing us, you should try to reset your inverter. If the red light is still on after you've restarted the unit, then give us a call on 1300 496 278 and provide the below details:
Error code shown on screen
Serial number from label on top of unit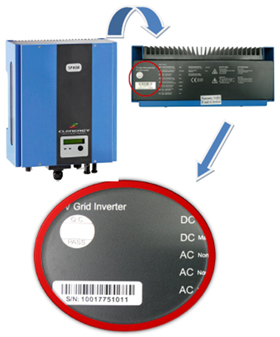 Known faults with Clenergy SPH inverters
Although Clenergy inverters are usually reliable, there have been issues of varied importance reported by users. Some of them, such as broken fuses and minor isolation problems, are easily repairable. Others, including earthing faults and severe water leaks, can cause major damage to the system and effect expensive and lengthy repairs.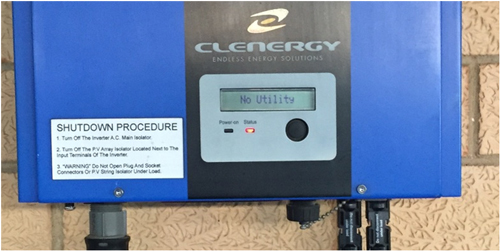 A No Utility or Grid Fault may be the consequence of a fuse problem, a power surge or a black out. Book a maintenance service to get it fixed.
A Ground Fault can be the result of the panel earthing. Book an inverter health check and get a quote.
An Isolation Fault might indicate water damage. Arrange a site inspection and ask for an estimate.
Is your fault not listed above? Chances are you will need a replacement. To find out, schedule a site visit with Service My Solar. Our technicians always carry a substitute model with them to avoid you spending extra time and money in the event of an irreparable defect.
Clenergy SPH inverter service and maintenance
No matter who installed your system, Service My Solar can cover your maintenance and servicing needs. A regular service of your solar power system is the best way to keep it safe and efficient. Our extended industry experience coupled with our high quality and safety standards provide us with the best resources to deliver premium service for your Clenergy SPH inverter.
Clenergy SPH inverter warranty claim
The warranty period on Clenergy SPH inverters is five years.
To file a warranty claim on your behalf, we will need:
A proof of purchase
The model and quantity of panels
The fault code
Your inverter's serial number (see sticker on the top of the unit)
Why not upgrade your system?
If your Clenergy SPH inverter warranty is expiring soon, or if your unit is no longer covered, it could be worth trading it in for a more recent and advanced model instead of getting it replaced with an identical system. You might even take this chance to get battery ready.
Get in touch
Give us a call on 1300 496 278 to have a chat about your Clenergy SPH inverter fault and our service team will happily help you get your system up and running again.
Alternatively, you can fill out the form to book an inspection.